Home
Special event for Heritage Open Days
Event Times Saturday 9 September: 1030-1600. Wider tours: 1430
Ayton Castle tower will be open to see inside. There will be a display of artefacts associated with the Castle, some other display material and there will be mini-digs for kids The Grade I listed Ayton Castle tower is not normally open to visit and for the day will be open for you to see inside. Meet at the entrance to the tower from where a local archaeologist will take small groups inside for a short tour. There will be a display of artefacts associated with the Castle, some other display material and publications. There will also be archaeological mini digs for kids – which are great fun- and a demonstration of 3D photography (photogrammetry). At 1430 local archaeologist Chris Hall will take some tours of the wider setting of the castle for those who sign up on the day (no pre-booking necessary but limited to 20) Booking Details No booking required Access The approach to the tower is over rough terrain and the tower itself has uneven floors and a difficult narrow spiral staircase. Access for the less able is therefore restricted. Stout footwear is recommended There is no parking at Ayton Castle or on the adjacent streets (Castle Rise and Yedmandale Road). Visitors are asked to park in the village such as Ayton Village Hall car park which is nearby and walk up to the castle. There are no toilets on site Additional Information Max 20 people per tour/session. walk takes 45 minutes There is no parking at Ayton Castle or on the adjacent streets (Castle Rise and Yedmandale Road). Visitors are asked to park in the village such as Ayton Village Hall car park which is nearby and walk up to the castle Contact for the day: Chris Hall 07411 919501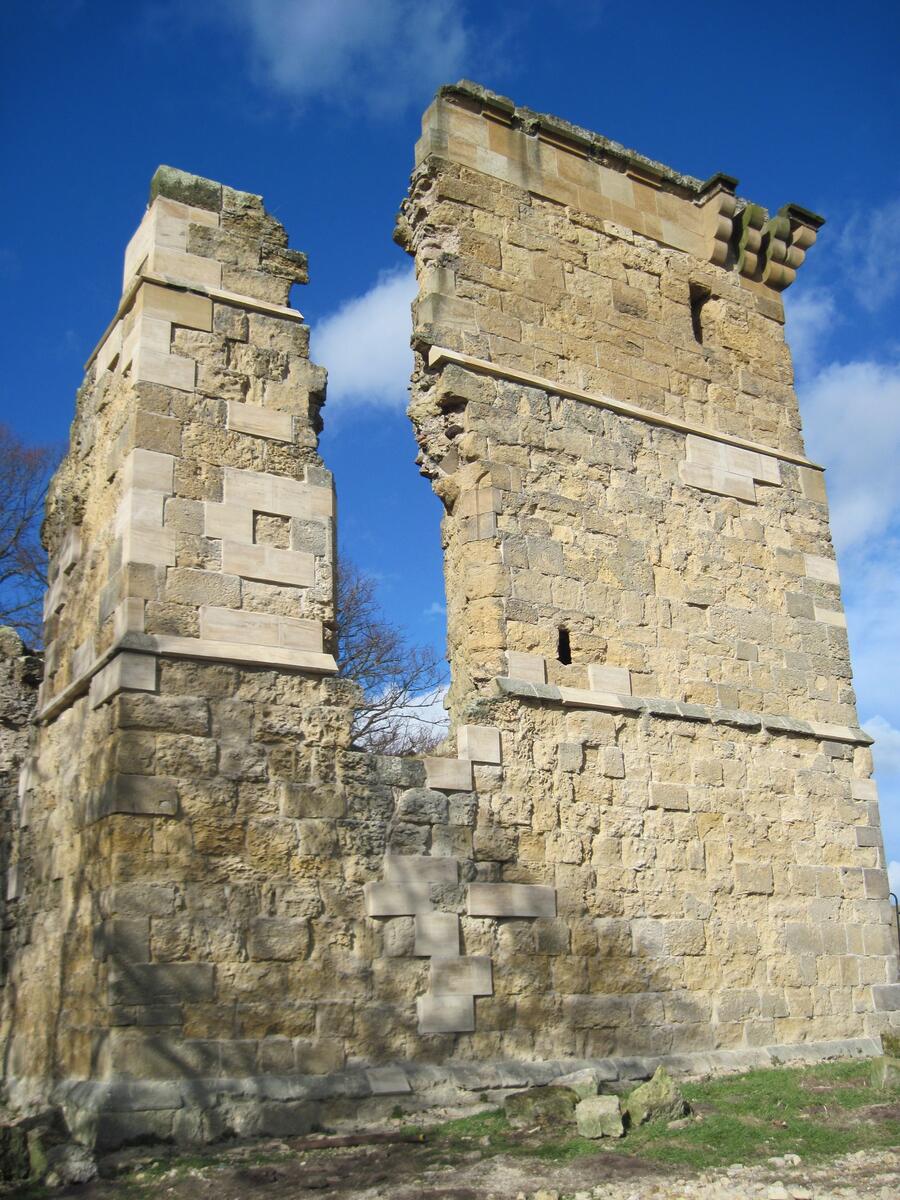 The ruined castle is all that remains of a fortified house called a Pele Tower which was constructed in 1410 by Sir Ralph Eure, a wealthy landowner who had married into the local de Aton family.
In the 13th and 14th centuries, the north of England was regularly attacked by Scottish clans or English Border Reiver families. After the Battle of Bannockburn, triumphant Scots reached as far south as Yorkshire and almost certainly attacked the 13th century house on the Ayton Castle site.
At the turn of the 15th century, Sir Ralph Eure, a notable figure from Northumberland, married Katherine de Aton and set about building an improved building which would be more effective against any future Scottish raids. He based his design on a Pele (pronounced peel) Tower which was a common defensive dwelling of the day along the Scottish Borders and in his native Northumberland, but rarely built this far south.
There is no parking at Ayton Castle or on the adjacent streets (Castle Rise and Yedmandale Road). Visitors are asked to park in the village.